If we want to eliminate the consequences, we must first remove the cause.
Somavedic is a device that can reliably eliminate and then completely remove unwanted influences of EMF radiation, geopathic stress, psychosomatic zones, water crosses or Curry and Hartmann lines. It also eliminates other negative influences that affect the cellular structure of the physical body. The positive effects are astounding!
Somavedic was designed based on 15 years of experience in the field of Chinese and Ayurvedic medicine, complementary medicine, and on the scientific knowledge in the field of frequency therapy. It has been proven, that if specific minerals are in a certain exact configuration and left to work in correlation, the resulting mutually supporting vibrations can in a certain way fine tune the environment – be it a geopathogenic zone or electromagnetic radiation (EMF). This is the core function of Somavedic. You can learn more about Somavedic here.
Somavedic has been tested and verified not only by natural sciences experts but also by operators of diagnostic-therapeutic centers. It also has a beneficial influence on animals, plants and everything alive. The effects are very gradual, pleasant, gentle and positive. Special models can also 100% harmonise water.
Made To Thrive is an affiliate partner to Somavedic and our clients enjoy a 10% discount on selected Somavedic models using the promo code SteveStavs.
Below is a selection of models we recommend, or visit their website for the full list and current pricing. Remember to enter the Promo Code SteveStavs upon checkout to receive your discount!
Somavedic units come with a 5 year guarantee. See a quick comparison of models to the right, or browse the options below.  Should you need more information about a specific model, please visit their site to choose a model that is right for you. 
was $605. Now $545 with Promo Code
The Somevedic Medic, with similar properties to the Atlantik offers far greater protection from environmental hazards and is ideally suited for any environment which needs to harmonise space more intensively. The Somavedic Medic has been independently tested and certified in two laboratories,  namely IGEF and IIREC. 
It also boasts elimination of influences including 3G, 4G, 5G, geopathic zones, viruses, bacteria, parasites & molds.
Was $725. Now $652 with Promo Code
Somavedic Medic Ruby has all the properties of Somavedic Medic, plus the advantages and properties of the Ruby crystal, supporting spiritual growth, encourage kindness and open hearts.
Stimulating heart chakra activity puts the heart in balance
It evokes positive dreams and clear visual images
It encourages pineal gland activity
Thanks to the protective effect of this stone, you can work harder during arguments and clashes
In emotional life ruby appears as a dynamic stone
It stimulates desires and enthusiasm in the heart
Ruby is a crystal that supports the need to socialise with humans and induces sexual activity
Ruby helps to overcome exhaustion and lethargy in the body, impersonating strength and energy, but it also dampens hyperactivity
Was $725. Now $652 with Promo Code
Somavedic Medic Cobalt has all the features and properties as Somavedic Medic,  plus on top of that has all the advantages and properties of the Cobalt crystal.
Cobalt provides psyche support
Royal blue color (chakra of the third eye)
B vitamins are for protecting nerve tissue and have a beneficial effect on the overall psyche
Elimination of influences: 3G, 4G, EMF, GPZ, viruses, bacteria, molds.
Trace amounts of cobalt are important for many living organisms, including humans. The concentration of several tenths of milligrams of cobalt per kilogram of soil has been shown to improve the health of grazing cattle. Cobalt is also part of one of the important members of the B group vitamins, vitamin B12.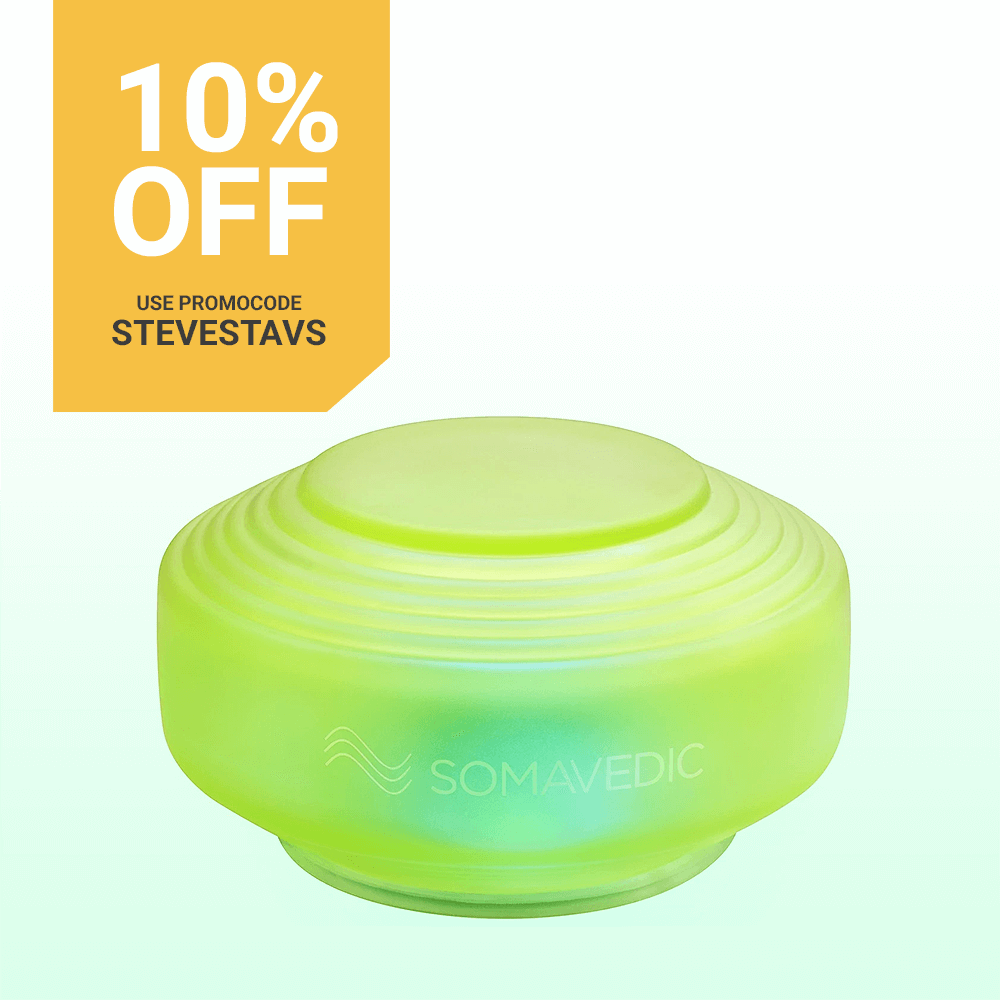 was $850. Now $765 with Promo Code
Somavedic Medic Green Ultra is an ideal choice for virtually any place with the need to harmonize the space. It can also harmonize (structure) water just like the Atlantik.
Is suitable for larger properties, households as well as hospitals, clinics, doctor´s offices or massage and cosmetic salons
The glass body is made of crystal glass with uranium admixture, which is important for the increase of EMF neutralization
Medic Green Ultra has successfully passed 3 laboratory tests (BION)
was $2420.  $2178  with Promo Code
If you want the ultimate protection from any EMF fields, Medic Amber is the solution
. Positioned between the Medic Green Ultra and Medic Gold, the Somavedic Amber offers:
4x stronger than Medic Green Ultra with all its benefits and features
5G protection – protects the human body from its negative effects 
Creating a more coherent, natural environment
Activating self-healing process in the body and mind
Available in Small & Large, The titanium pyramid strongly amplifies the effects of Somavedic
Titanium pyramid is one of the most powerful positive energetic tools today
We are the only ones in the world who make a titanium pyramid
It is solid, made of the purest titanium
Apart from other things, the pyramid can also be used to stimulate alternative harmonizing and regeneration processes
The energy field potential of the titanium pyramid exceeds up to 500 times the energy and vibration power of a pyramidal formation, which is made of a different material other than titanium
The electron shell of an atomic nucleus of this element is able to amazingly communicate with the cellular system not only of the human body but also the animal body, possibly even the plants
Titanium does not oxidize, it is the only element inert to a human organism, it doesn´t cause any allergic reactions and is therefore used for the production of implants in health care